COVID-19 has led many employers to move as many employees as possible to work from home. Some are loving this newfound freedom, but others are having a hard time figuring out the best way to make work from home work in San Diego, especially those living in an apartment community with limited space.
Our team at 4th and J Apartments is here for you with 4 great tips on setting up a home office that works for you.
Aim for Some Privacy
Wherever you put your home office, work to create a space that can offer you some privacy. If you have kids that will be home during the work day, the middle of the living room probably isn't the right choice.
Of course, privacy can be hard to come by in some apartment layouts. But two of the upcoming tips will help.
Create a Bedroom/Office Combo
Many at-home workers who live in single family homes have converted a spare bedroom into an office. That's rarely an option in apartment living (though if you have a spare bedroom, that's the obvious place to start). If you're sharing a two-bedroom with a roommate, you'll need a more creative solution.
Consider creating a bedroom/office combo, especially if your work-from-home arrangement is likely to be temporary. Store one of your side tables and scoot your bed toward one wall or the other. This will free up some floor space, where you could place a small desk and chair.
If you have a bedroom to yourself, this arrangement provides privacy and keeps your shared spaces free of work clutter. Of course, if you share a bedroom with a spouse or significant other, this arrangement might not be ideal.
Use a Closet
Many luxury apartments now offer walk-in closets for at least the largest bedroom. But let's face it: not everyone really needs that much space for clothes. If you have a walk-in closet that's not filled to the brim, consider converting it into your new home office. It might feel a little claustrophobic at times, but being able to "shut the door" on work and have all that clutter hidden is a big perk.
Repurpose a Corner of the Living Room
If the above options don't work for your living arrangement, then try repurposing a corner of the living room. Orient your workspace toward a wall or window — not the TV. You'll need to create clear boundaries with your roommates or family, and we recommend investing in a quality set of noise-canceling headphones. This arrangement might not be ideal, but we've seen it work for plenty of residents.
Create a Luxurious Home Office at 4th and J
The above ideas will help you create a workable home office just about anywhere. But to truly elevate your home office experience, it helps to live somewhere you love. 4th and J Apartments are a luxury San Diego apartment community with amenities galore, like two spacious entertainment and sky decks plus a conference and collaboration space, it's well suited for the work from home crowd.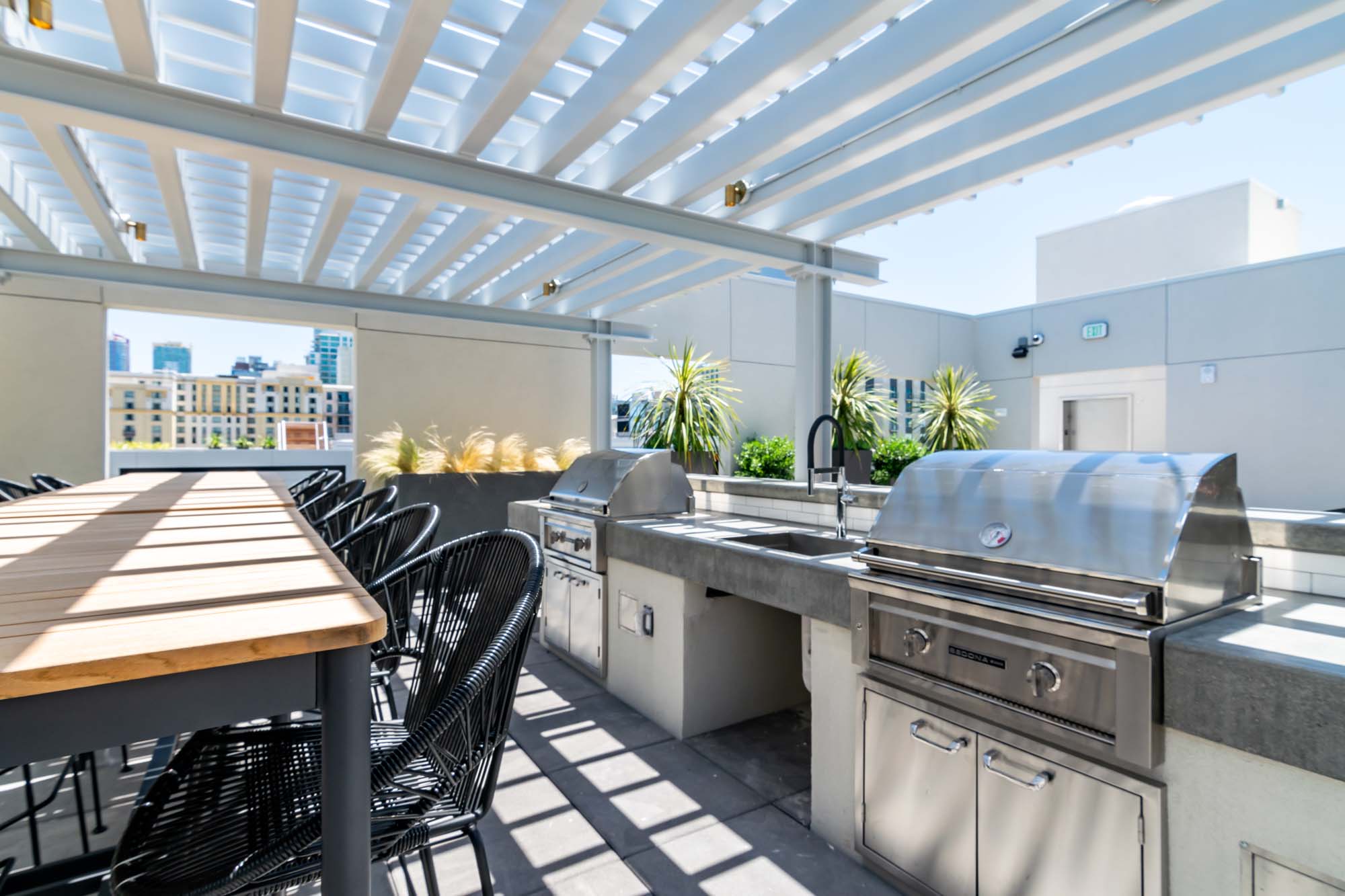 Contact us today to learn about our blowout lease specials!